Web EURO 2008.cz
EURO2008 project was completed.
Football portal championship EURO 2008
EURO 2008.cz Web portal is bringing the latest information and news, reports, expert commentaries, exclusive interviews, interest, rosters, statistics, tables, results, player profiles and team competitions, picking and more.
After its successful football news portal www.PremierLeague.cz EURO 2008.cz is further elaborated comprehensively internet sports project team CZECH MULTIMEDIA INTERACTIVE.
For those who still do not know what they are talking, the EURO 2008.cz football portal for the Euro 2008 championships held in Austria and Switzerland 6.7 – June 29, 2008. Czech footballers here will compete in Group A with homemade Swiss and with Portugal and Turkey. For each basic group will advance to the quarter-finals the two best teams.
Profile Portal Euro2008.cz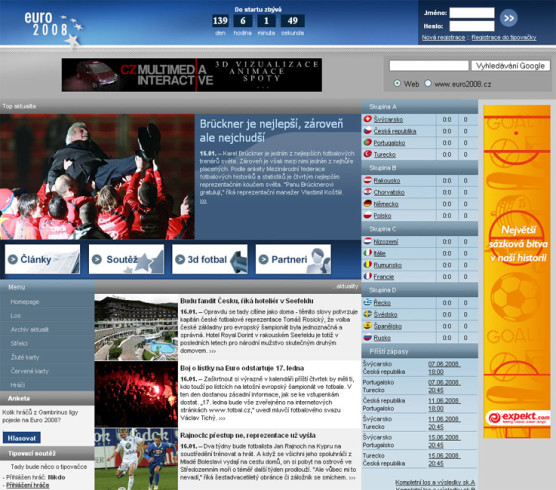 Kategorie: Projects Web presentations
EURO2008.cz is the first / top of the search in GOOGLE
It is a traditional Czech portal and already experienced Internet domain that is intuitive for visitors
includes detailed coverage of our unique editorial (hereinafter ČTK ..) during the championship will display a large number of photographs from ISIFA daily reports, comments, attractions, exclusive interviews, news statistics, tables, results, roster, calendar of matches, player profiles, team. We organize online competitions with prizes, online picking on matches
Why advertise on Euro2008.cz?
Certain participation of the Czech national team championship
Attractive event for football fans
Sports Event of the Year
Traditional and exclusive tournament
Long tradition domains (intuitive input)
The high prestige of the competition
Direct broadcasts on Prima TV
EURO 2008.cz logo project download
For white background (black version):
Pro tmavé pozadí (white version):
EURO2008 project was completed – the approach must username / password euro / e2008.