Mr. Brown web
Company Al-Namura deals with the production and distribution of beverages. Since 1992 she has imported teas from Ahmad Tea London, where she currently imports 66 teas. Since 1994, the company has begun to import and distribute maple syrup from Canada. Since 1995, Mr Brown has started importing ice coffee and since August 2003, the company has started to produce and distribute the power drink SHOCK!
At first, only one flavor of Mr. Brown brown ice was imported. Since May 1996, the second flavor of Mr. Brown Blue Mountain has been brought. Since January 1997, another flavor has been added, namely Mr. Brown Brown Black (black). Since April 1999, two other flavors have been imported – Mr. Brown Cappuccino and Mr. Brown Vanilla. Since May 2000, the company has imported another flavor of ice coffee – Mr. Brown Toffee (but this species has not become so popular, so you will not find it today). Since March 2002, Mr. Brown Mandheling (no sugar) has been added and in February 2003 the last of the flavors of the current offer of seven kinds of ice coffee beans Mr. Brown Pure (without sugar and milk).
Although it is a flash web presentation that is supplemented by multimedia effects, sound and music, the texts displayed are easily copied (flash player 7 and above). Text content is retrieved from external files.
presentation: www.mrbrown.cz
company: www.alnamura.cz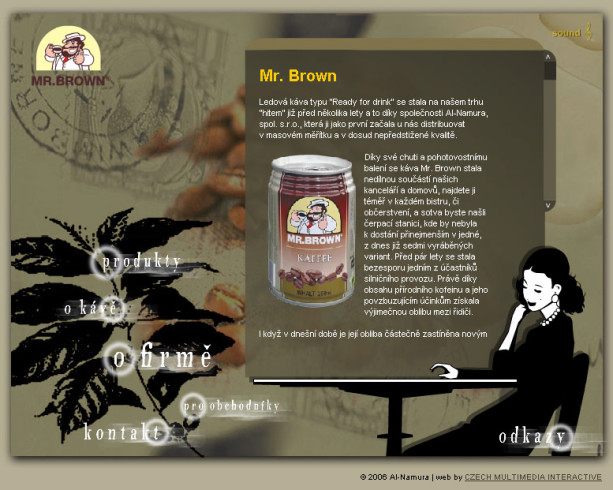 Kategorie: Interactive applications Web presentations