Dubai Racing Club 3d visualization
3D visualization Multipurpose Hall, Interior and Exterior Racing Club, Dubai. The interior spaces are divided by waves of suspended glass profiles, glass hinges and nets. Each glass profile is sharpened across the edge and a semi-translucent metallized layer is applied on the resulting surface. The glass bars are embedded in the ceiling molding from which they project and in which linear lighting is placed.
The exterior of the club was supplemented according to the designs of the sponsor of unique glass horses in life and lifespan, consisting of tens of thousands of glasses.Design design and luxurious look can be seen in our photogallery.
Presenter of the presentation was Preciosa, a traditional producer of exclusive cuts made of genuine Czech crystal from 1948. The international headquarters of the company is the town of Jablonec nad Nisou, located in the north of Bohemia, where glass production has a centuries-old tradition.
URL:
Dubai Racing Club – www.dubairacingclub.com
www.preciosa.com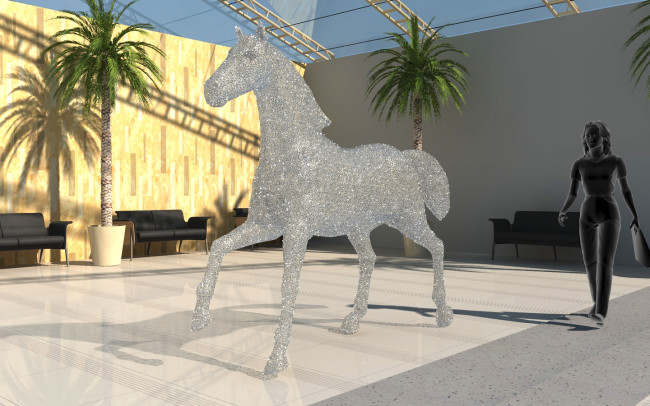 Kategorie: 3D visualization