DVD authoring AIRBRUSH
DVD authoring is the process of creating DVDs (DVD Video format) that can be played on a DVD player. The Airbrush disc ( American Retouch ) is an art technique based on painting in the air stream. As we know it today, it is one of the most sophisticated techniques of applying color with maximum accuracy. This technique is used by illustrators and artists who make up artistic or advertising works. The DVD course is suitable for anyone who thinks about their own creation with this technique and knows little about it.
The longest part of the DVD is devoted to a practical demonstration of airbrush illustration , to which the experienced artist gives you the basics, the most common techniques and techniques of making your own illustrations.
DVD authoring AIRBRUSH – the basics of technology
graphic design of title and editions
processing audio and video assets
DVD authoring, menu processing, content distribution into logical units
creation of a photo gallery
preparing a short sound track and copyright screen
DVD mastering
duplication of DVD including print in required load
production of DVDs
securing the DVD cover
DVD title assembly, film wrapping
[swfobj src="https://czmi.cz/interaktivni-reference/fixed-point-airbrush/airbrush_video-320×278.swf" width="320″ height="278″]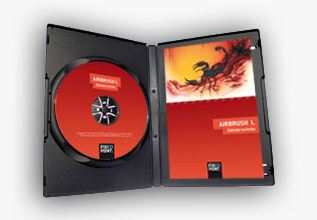 Kategorie: Authoring DVD CD, DVD pressing